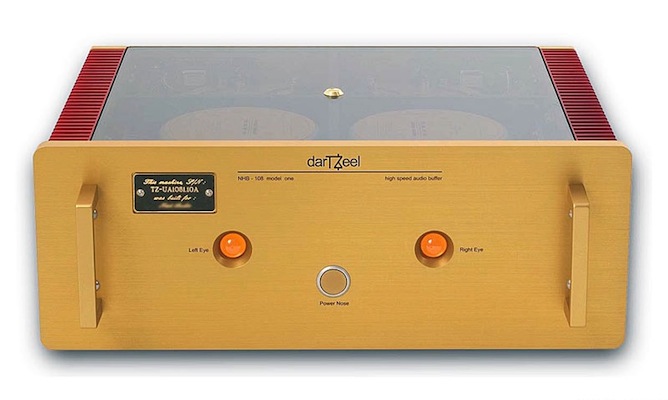 darTZeel NHB-108 model one stereo power amplifier
Regrets, I have a few… even about reviewer-loan audio equipment I now wish I had bought, way back when.
The first audio magazine I wrote for was Wayne Green's Digital Audio magazine. The première issue came out in September, 1984. The articles listed on the cover included "How to Buy Your First CD Player." (Snort.) I was the founding classical-music columnist ("Classical ReMarks").
I got that columnist job by pure happenstance. Someone I knew (Chuck Dougherty) worked for the regional hi-fi chain Tweeter, Etc. Chuck also was a computer whiz who moonlighted writing for one of Wayne Green's computer magazines. Word got around to Chuck that Wayne Green Enterprises needed someone who knew about classical music, and who also could write. Seeing as I was already writing reviews of classical music concerts and recitals for the Providence Journal, I seemed to be a good fit. Wayne Green's little publishing empire was based in New Hampshire. As it happened, I was visiting New Hampshire frequently, in that I was organizing and presenting the chamber-music performing-arts series at Thomas More College in Merrimac.
While writing for Digital Audio, I not only reviewed CDs and wrote a column; I also interviewed musicians, including André Watts, Michael Tilson Thomas, and Joseph Silverstein. Although my duties did not include equipment reviews, I did have occasion to drool over (or lust over) some pieces of gear. I moved on to the Planet HiFi website (which was where I first reviewed audio equipment, and not just recordings), and then back to print journalism, first with The Absolute Sound, and then Stereophile.
Please note, this mini-series is limited to products that I had the opportunity to hear in my home, as part of a formal review process. There are many excellent products I would consider buying, but which I just have not had the opportunity to hear at home; the best examples I can think of at the moment are the excellent radial loudspeakers from MBL.
After the jump, I recall some of the "big-fish" (as well as some "little fish") audio-review-loan components that got away. Continue Reading →