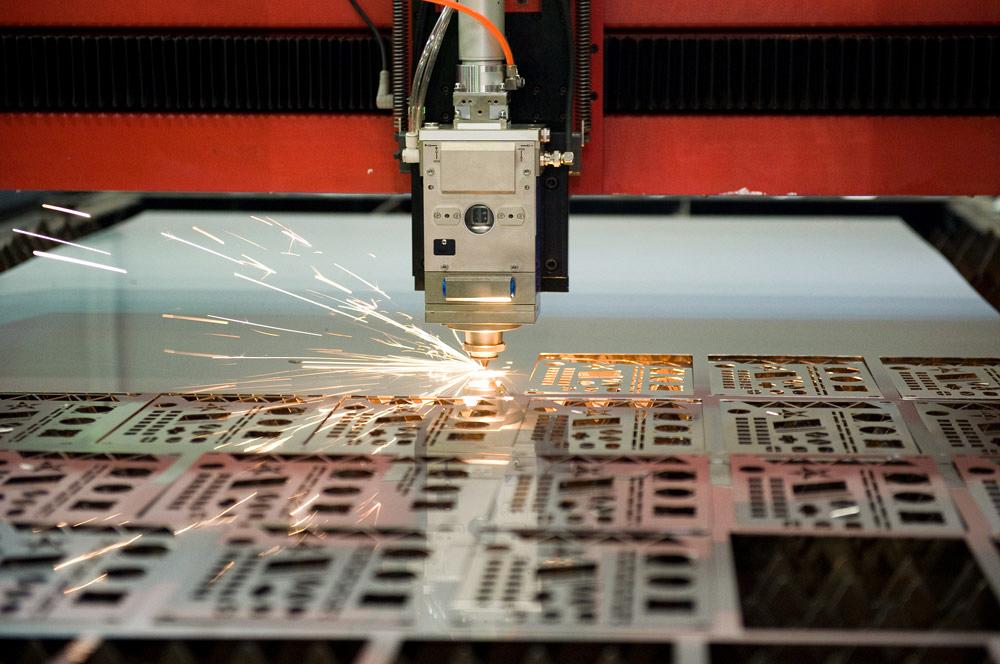 While developing the latest iteration of the Harmonicaster electric harmonica, I've discovered a couple of American companies that provide outstanding service and quality.
Working with Jeff Lace I've been fine tuning a pickup based on *Lace Music's Alumitone pickups that is thin enough to actually fit inside a harmonica. It may be the thinnest, lightest magnetic instrument pickup ever made. To make it I need some 1/16″ thick aluminum stock precisely cut, which I then bend to shape on a sheet metal brake. I initially was going to have it waterjet cut, like Lace does with their stock Alumitone pickups, but the setup charges at most cutting shops was rather expensive for a prototype that I wasn't sure would work. As it happens, it works great and I even found a way to have the aluminum cut inexpensively. Sendcutsend.com is a Reno, Nevada based laser cutting service that cuts a variety of metals and all of their work is done in-house.
How it works is you upload a standard 2D CAD file in DXF format to sendcutsend.com's website. You then pick out a material, a thickness and the number of parts you want. Since the cost of cutting is proportional the amount of time on the machine, determined by the number and length of cuts, their software analyzes the file and you can get an immediate quote and place your order. They promise a five day turnaround, but in general they've been faster than that, and they use FedEx for reliable, free, 2nd day delivery. I have sent them files on the weekend and had the parts in my hand in the Detroit area by Thursday.
If you've ever done product development you know that there are many, many iterations before finalizing a part design. The guys at Sendcutsend will accommodate design revisions up to the point where they begin cutting. They stock aluminum and steel in various grades (including stainless and chromoloy) as well as copper, brass, and even titanium. They'll also cut your own material provided it's not too thick and will lay flat, and they offer custom quotes if needed.
Not only are they fast and accurate, parts are delivered shrink-wrapped to a cardboard liner so they don't get jostled or damaged in shipment, and then protected by two layers of additional cardboard. Oh, and they work cheap. Their minimum price is $29 and they offer serious discounts as quantities increase. That's cheap enough that I can order enough parts to have some to spoil while I'm working out fixtures for the sheet metal brake.
If you have a racing team or otherwise need metal parts accurately cut, check out sendcutsend.com. Highly recommended.
I found another outstanding American company a bit closer to home, about 90 minutes away.
Branding is important and, without patting myself on the back I have to admit that Harmonicaster is a great brand name. You immediately know that it's some kind of electric harmonica. However, having a great brand name without a professional and attractive way of applying that brand to the products doesn't do much good. So far, I've tried using waterslide decals, which certainly work well enought that that's how Fender puts their brand on their guitar headstocks. The problem is that you have to apply them very carefully, making sure there are no bubbles, they are very easy to tear while applying, and you can still see the decal's outline even after everything has been clear-coated.
Since the parts are 3D printed, I've also tried printing the logo in a contrasting color. The problem with that is that when it comes out it looks great but it doesn't always print well. Also, I'm now printing some parts in an orientation that gives me the best results and it isn't suitable for color changes.
As a result of all this, I've decided to give hot foil stamping a try, using a cheap Chinese stamping press. Wait, I thought this was about Made In America. It is, but I'm not going to spend $1,800 on an American made Kingsley foil stamper to try out a process that I'm not sure will work. You can get a small foil stamping machine made in China for a little more than $100. I decided to get one with a few bells and whistles for about $250 and when American Express offered me a $125 gift card at Amazon's checkout if I signed up for one of their business credit cards, that made the decision all the easier.
To put a logo on something with stamped hot foil, though, you don't just need a machine, you also need a stamping die with your custom design. I could have ordered one made in China for about $50 but the Hong Kong seller's page on Etsy promised delivery in 4 to 5 days in one location and then said there might be weeks of delay getting the dies made, mentioned someplace else on his page. The stamping machine was coming via Amazon prime and I didn't really want to wait weeks to find out if I wasted money on it.
As it happens, the world's largest photoengraver of metal is Owosso Engraving, located in Owosso, Michigan, less than 90 miles away, not that far from Lansing, and they too offer quick turnaround on uploaded designs. In my case, I ordered a magnesium stamping die one day and was able to pick up the finished die the next afternoon, and the finished die cost less then $40.  Even if I had them ship it to me, instead of taking my grandsons for a ride through rural mid-Michigan, it would have cost less than having it made in China.
Owosso works with many materials and they offer a wide variety of engraved and etched products ranging from dies to commemorative plaques and awards. Their salesman was very helpful walking this newbie through the ordering process
The quality of the die looks to be outstanding and I think the process is even going to work once I dial in the correct temperature and pressure. The foil stamped logos look very professional and visually "pop" better than even metallic decals. They're also going to be more durable as the film is essentially melted into the surface, not only making it permanent but also pressing the logo slightly lower than the surface, preventing it from rubbing off.
Jeff Lace told me that Lace Sensor pickup covers are all foil stampted. They use a vintage Kingsley machine that his father, who founded the company to make industrial solenoids, bought. There's something special about using your father's tools.
There's an old saying among manufacturers and tradesmen: "You can have it fast, cheap, and good, but you only get to pick two out of three." That old saying is being disproven by American manufacturers like Owosso Printing and Send Cut Send.
By the way, Michigan has been one of the hardest hit states in the Covid pandemic and our governess has been one of the more draconian executive orderers in all of this so you'd expect the economy here to be really suffering. Once I got to the road where Owosso Engraving was located, the highway was literally lined with "Help Wanted" signs from a variety of businesses, so things may not be as dire as one would expect.
Disclaimer: I had already had this post in draft form when I got an email from sendcutsend.com, offering vouchers to their customers as rewards for posting about the company on social media, blogs, etc. so I may end up getting some kind of discount on future work as a result of this piece. As I was already being highly complimentary, I don't think the offer has affected my opinion.
*Jeff and his brother Don run the company their father started. It's a pretty cool story. Actodyne, the family firm, originally made (and still makes) industrial solenoids in southern California. When Lace senior came up with a new inductive sensor that he realized worked well as a guitar pickup, with some technical advantages over conventional pickups, he made a deal with Fender. He passed away in 1992 and his sons took over management of the company. A few years back, Lace introduced their Alumitone pickups, which are pretty clever. Instead of having a conventional pickup's large coil of many thousands of windings of copper wire, in which voltage is induced by the vibrating string which has been magnetized by the pickup's magnet, Alumitones use a piece of 1/8″ Aluminum that's been waterjet cut to create a loop. That loop essentially becomes the primary winding of a small transformer coil, which use a small fraction of the copper used in a conventional pickup. Apparently, it's current-based rather than voltage-based as conventional pickups are but I'm sort of at my limit of understanding electronics here so I'll just leave it there for you to research. The result is a wider, flatter frequency response, with good tone, and a much lighter weight pickup. Working with Jeff Lace, I've developed a custom Alumitone for the Harmonicaster whose inductor is just 1/16″ thick, thin enough to slide into a harmonica without interfering with the reeds.