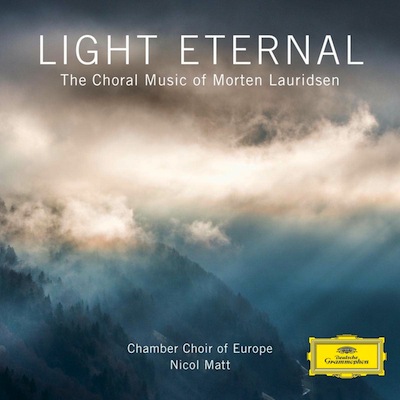 Last Friday, Deutsche Grammophon released the CD Light Eternal—The Choral Music of Morten Lauridsen. Amazon's pre-order price for the CD is $12.59, which is a truly excellent price. But this CD would be a bargain at full list. There is also a 24/88 hi-res PCM download from HDTracks, reasonably priced at nearly 90 minutes of music for $20.98 (There are two bonus tracks with the download). The album will also be streaming from Apple Music, Spotify, and Tidal. And if you don't mind reduced sound quality and the occasional advertisement, the album appears as an authorized playlist on YouTube. That's right! You can hear the whole thing before you buy it!
My experience in producing and selling classical-music recordings is that most people don't have formal training in music history or music theory, but they do want beauty in their lives, and they recognize it when they hear it. This is one of those recordings. If you care about choral music, especially contemporary American choral music, or if you simply want to add some beauty to your life, please vote with your wallet and buy this CD (or download), and also please consider buying half a dozen, a dozen, or more, as stocking stuffers (or, as "holiday," or even non-holiday gifts). Lauridsen's music is contemporary music that honors the entire tradition of choral singing, from O magnum mysterium's soundworld, which to me calls to mind the soundworld of Allegri, to Madrigali—Six FireSongs on Italian Renaissance Poems, which is perhaps best described as modernism—but with a heart and a soul.
Trailer embed and track listing after the jump.
I love the way Lauridsen gets across the architecture of the piece (Lux Æterna) and the need for the longest lines possible… .
All tracks:
The Chamber Choir of Europe, Nicol Matt, conductor
Works presented:
Lux Æterna (with I Virtuosi Italiani)

From: Les Chansons des Roses (Rilke):
1. En une seule fleur and
5. Dirait-on (Morten Lauridsen, piano)
From: Madrigali—Six FireSongs on Italian Renaissance Poems:
1. Ov'e, lass', il bel viso? (download-only bonus track) and
6. Se per havervi, oime
Prayer (Dana Gioia)(Morten Lauridsen, piano)(world-première recording)
Ya eres mia (Neruda)(Morten Lauridsen, piano)
Nocturnes:
Sa nuit d'eté (Rilke)
Soneto de la noche (Neruda)
Sure on this Shining Night (Agee)(Morten Lauridsen, piano)
Epilogue: Voici le soir (Rilke)
O magnum mysterium
Where Have the Actors Gone (Lauridsen)(Morten Lauridsen, piano)(download-only bonus track)
These definitive performances, so engagingly recorded, earn my highest possible recommendation.
# # #