In Autumn of 1962, the high water mark of American Motors Corporation was arguably reached. Between 1958 and 1963, the Rambler lineup, in its frugal American, mid-priced, family-friendly Classic and deluxe Ambassador lines, hit a sweet spot in the domestic market that it never really recaptured.
When the all-new 1963 Classic and Ambassador debuted, AMC was at the top of its game, with appealing, well-built, sensible cars. After that, save the brief spark of the AMX, Javelin, Hornet and Eagle, it was mostly downhill.
The entry-level Rambler–and also the least-changed from 1962–was the American. Sure, it was suitably creased and de-finned to look like a Sixties U.S. car. But it also was pretty obvious it was a new suit on the old '58 American–which itself was a rehash of the 1953 Nash Rambler. When my mom was in high school, a friend had a convertible of this generation, a 1961-63 named Fred. Fred the Rambler was very reliable.They might not have been cool in the high school parking lot in 1970, but they kept ticking along. And hey, the top went down-an added bonus.
The all-new 1963 Ramblers appeared on October 5, 1962. Other than the American, the lineup was very fresh-looking. Classics were initially six-cylinder vehicles, with only the fancier Ambassador getting a V8–at least until the V8 Classic appeared in February 1963.
One big new selling point was the one-piece outer "uniside" construction. A significant portion of the bodyside was now a single stamped piece. Not only did this make the 1963 Ramblers easier (and no doubt, less expensive) to build, the fewer assemblies and nuts and bolts contributed to fewer rattles as the car aged.
The Classic was initially available in 550, 660 and top-trim 770 models, all with six-cylinder power. A two-door sedan, four-door sedan and four-door station wagon were available in all trim levels. The Ambassador was quite similar, but understandably plusher, with nicer seats, door cards and additional chrome.
These attractive new cars were unfortunately not offered as a convertible, but that was right in step with AMC's target market. Sensible, middle-class families. At this time, American Motors was not really into racing, speed or anything even tangentially related. As period advertising put it, "the only race we care about is the human race."
An eight-passenger station wagon was also offered in the mid-range 660 trim. A V8 Classic appeared a few months after the 1963's introduction. All six-cylinder models and body styles were available with the V8, and ran about $100 higher than comparable sixes.
Prior to the V8 Classic appearing, the only Rambler you could get with a V8 was the top-of-the-line Ambassador. As in 1962, the Ambassador shared the very same body (1961 and earlier models had a stretched wheelbase completely ahead of the windshield–a treatment going back to the Nash days), but had more exterior chrome, plusher interiors, unique wheel covers and the aforementioned V8. An Ambassador 990 four-door ran about $300 above a Classic 770 sedan with the six, or $150 above a V8 Classic 770.
Of course, it being the early Sixties, the station wagon and suburbia were king. Rambler was right there in the thick of things, as all three of their car lines offered station wagons. The American even offered them in two- and four-door versions, albeit for the last time this year.
The Classic 770 was an excellent suburban kid-hauler and grocery getter. It was practical, affordable, looked modern, and I imagine they were just part of the scenery in their day. Like today's CR-Vs, Highlanders and Explorers, these Cross Countrys were once a common sight at elementary schools, grocery stores and little leauge. And quite unlikely to make enthusiasts stand up and take notice. No, those folks with sporting blood would have totally ignored Ramblers and their arch-rival Falcons, Valiants and Chevy IIs. But in suburbia, they were gold. Just as many disdain the Pilots, CR-Vs, RAV4s and Escapes.
Today, these wagons look pretty stylish. But that's just because styling has taken a back seat to comfort, regulations, fuel efficiency, coefficient of drag, regulations, focus groups and rules, rules, rules. It's funny how many say the car companies should do this thing, that thing and t'other thing instead of what they are doing right now. But ya know, car companies aren't nostalgic. If crossovers the public wants, crossovers the public gets. Sure, I may love the new Continental, soon-to-be-canned Cadillac XTS and others, but at the end of the day car companies build what they make money on. My opinion is immaterial unless I'm shelling out for a brand new car. In their day, these Rambler Cross Countrys were about as exciting as a Camry LE or Fusion SE. Only nostalgia increases their value today.
An example: I dare you to go to your local Ford, Toyota or Chevy dealer and attempt to order a new Fusion, Camry or Impala in metallic mauve with a maroon and mauve interior! Ah, so sorry sir, that's quite impossible! No colors in new cars! Colors are forbidden! Silver Silvermist, beige Beigemist, Snowblind White and Tire Fire Black sell, so that's what we got on the lot! But I digress.
I can thank my Dad for today's find. I had gone for a long drive, just for the hell of it, back in April of 2013. Winter was over, and I wanted to get out of the darn house. Eventually, I arrived at my folks' house. As I walked in the door, Dad said he saw a cool old Rambler on the way back from Jewel-Osco (it was Sunday, which was Steak Nite back then!). So it was back to the car to go seek it out.
There were folks at the house the Rambler was parked at when I pulled up, but they were just friends of the homeowner. They had no problem with my taking some pictures, fortunately.
I would have liked any '63 Rambler, but the maroon-over-mauve paint and trim were really cool. I could picture Laura Petrie driving this through New Rochelle, though Rob probably would have had a little Triumph Spitfire or MG-B.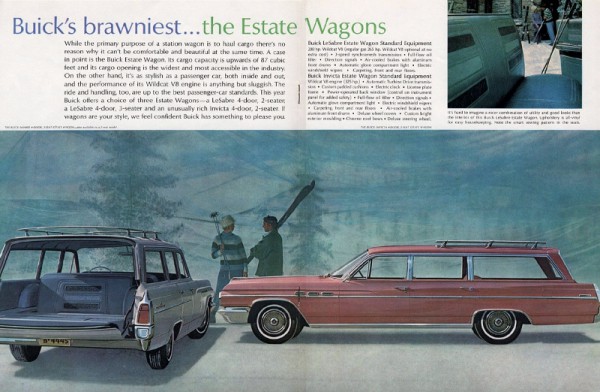 Or maybe Jerry and Millie Helper would have had the Rambler, while Laura would drive a Buick Estate Wagon? After all, Rob was a big-shot writer for Alan Brady. Yes, I am a big fan of the Dick Van Dyke show!
While the 1964 model was essentially the same, I've always liked the '63s better, with that oh-so-Jet Age concave grille. This was really the last Rambler designed when AMC could actually afford it. The 1967 models, heavily pushed by Roy Abernethy, were also a redesign, but AMC couldn't really afford the re-do, especially when the '67s completely tanked in the market. But the '63s did okay, and received Motor Trend's Golden Calipers to boot.
As Ramblers typically appealed to more frugal types, the Classic 550 and 660 sold better than the bechromed, top-of-the-line 770. Still, they didn't do too bad with 35,281 four-doors, 5,496 two-doors and 19,319 six-cylinder 770s being built. V8-equipped 770s saw sales of 7,869 four-doors, 1,341 two-doors and 4,399 wagons, but this particular wagon appeared to be equipped with a six, judging from the lack of front-fender V8 badging.
According to the for sale sign. it was an unrestored original car with just 54,000 miles on the clock. I have a soft spot for all the independents, but the Sixties Ramblers are a close second after Studebakers, and they are so seldom seen in 2018-even at car shows! It was a pleasure to check out this Cross Country.