The musical form I had the most commercial success in (as a classical-music record producer and label owner), was the string quartet. Granted, my remarkably successful string-quartet recordings consisted of quartet arrangements of sacred and traditional Christmas music. But those recordings are a lot more "classical" in character than "crossover" in character. In other words, no Frosty and no Rudolph. My three original JMR Arturo Delmoni & Friends Rejoice! A String Quartet Christmas CDs have been reissued by Steinway & Sons Recordings as a 3-CD set.
Whatever happens to me from here on out, evidence of my devotion to the string-quartet form will live on. That's because I am the dedicatee of Morten Lauridsen's (to-date) sole work in that genre, a transcription for string quartet of his chamber-choir chanson "Contre Qui, Rose." "Contre Qui, Rose" is one of Lauridsen's settings of Rainer Maria Rilke's French-language poems. Lauridsen chose among the Rilke poems that mentioned roses for his 1993 cycle Les Chansons des Roses. The story continues after the jump link.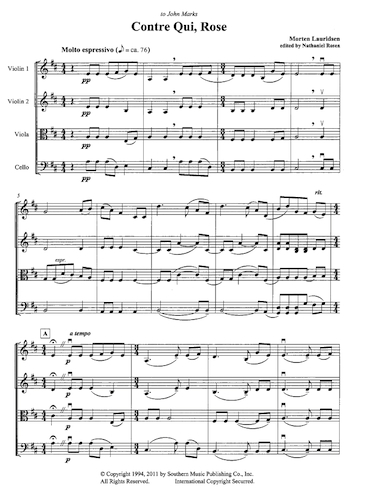 How the string-quartet version of that one chanson came about is, I was listening to a choral recording that, unfortunately, was just not doing it for me. But instead of "Air Conducting" them (in a pointless effort to get them to move things along), I found myself "Air First Violin-ing" the music. That was my "A-ha" moment—the insight that "Contre Qui, Rose" was a string quartet work that got lost along the way. I asked Morten whether the idea of a string-quartet version had ever occurred to him. And while it had not, he liked the idea.
I enlisted Nathaniel Rosen and Arturo Delmoni to help with the string-playing aspects of creating the score and parts. Jerry Bruck volunteered his engineering time and John Gingrich enabled us to use NYC's Good Shepherd Faith Presbyterian Church as a venue. A volunteer quartet recruited by Arturo Delmoni recorded a run-through to check the parts. I truly was ticked pink when I first saw the first page of the score. It says "to John Marks." And I am very grateful. The score and parts are published by Peermusic Classical, and are widely available, such as here.
Anyway, all of that is to say that the string quartet has been a very important part of my musical life, and that I not only know a certain amount about the form and its history, I have put my passion and my knowledge to good use. So, there are grounds for trusting my judgment on this: There is a great new string quartet that you absolutely must hear!
I am indebted to Norman Lebrecht, who posted on his blog Slipped Disc a YouTube of a quartet ensemble new (founded AD 2013) to me, the Vienna-based Auner Quartet, playing one of Mendelssohn's early quartets (Mendelssohn wrote a total of six). Wow. What a polished and refined ensemble! What gorgeous sounds! What a well-thought-out interpretation! I have long said that we are living in a Golden Age of string-quartet playing, and I never cease to be delighted at each new discovery.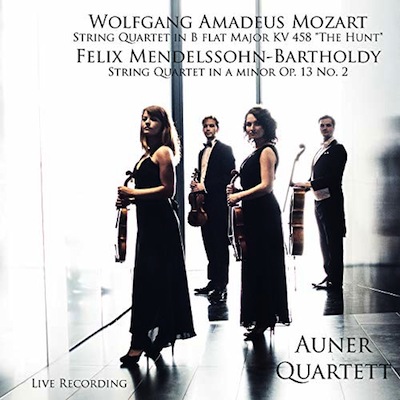 In addition to the Mendelssohn performance embedded above, on the Auner Quartet's website (or via a YouTube Search) you can find videos of Dvořák, Schubert, Mozart, and Webern. The Auner Quartet has out one physical CD (clarinet quintets of Mozart, Reger, and Leitner), while two albums are available on iTunes and Apple Music (and also Amazon and streaming via Tidal). The two albums are live recordings of Mozart with Mendelssohn (above), and Villa-Lobos (Quarteto Popular) with Schubert ("Death and the Maiden").
So, congratulations and best wishes to the Auner Quartet. Please do check them out!
# # #