There are times when I think that a music-business story is "too good to fact-check," and this is one of them. Young counter-tenor Jakub Józef Orliński agreed to substitute for an ensemble that could not appear for what Orliński believed would be the radio-only live broadcast of an outdoor afternoon concert in the south of France. The New Yorker picks up the story (after mentioning that Orliński was, on the day of the concert, nursing a mild hangover):
Orliński put on baggy shorts and beat-up sneakers, and rolled up the sleeves of a crumpled tattersall shirt: this was radio, after all, and it was ninety degrees outside. Only when he and his pianist, Alphonse Cémin, who was in shorts and flip-flops, arrived at the recording venue—a courtyard with a small audience—did they learn that the performance was also to be streamed on Facebook Live. It was too late for Orliński to change clothes, and so he sang just as he was—unshaved, and dressed as if ready for a day of sleeping it off under the Provençal plane trees.
This is obviously a superb job of singing; the YouTube view count of 4.7 million views is something I find very heartening. That's in part because counter-tenors are in a way like harpsichords. In both cases, at times there seems to be a parity between the numbers of people who can enjoy the sound, and those who feel compelled to flee from it. And in that regard, I would have preferred a Baroque continuo rather than a Steinway grand (Vivaldi's opera dates from 1724), but the piano accompaniment is very sensitive. And one must keep in mind that Orliński was substituting on less than 24 hours' notice. (I do crack up every time I see the "page turner" reach up and touch the iPad.) Also, for an outdoor concert, what a lovely recording job! More, after the jump.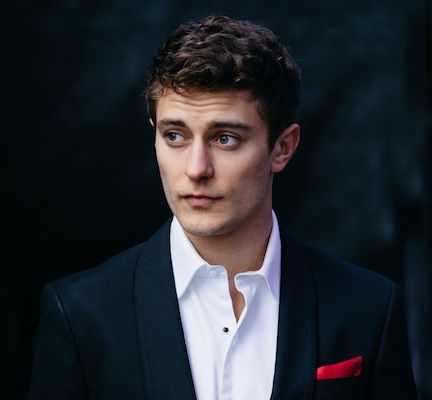 photo by Jiyang Chen
Jakub Józef Orliński was born (in 1990) and received his early education in Warsaw. He began his music career in the male choir Gregorianum. He graduated from the Fryderyk Chopin University of Music, and from 2015 through 2017 studied at the Juilliard School. In 2016, he was winner of the Metropolitan Opera's prestigious National Council Auditions. In 2019, he was selected as Gramophone magazine's Young Artist of the Year. In addition, he is a breakdancer, and a fashion model whose credits include work for Nike and Levi's.
Orliński has three recordings out at present: Anima Sacra, a sacred recital from composers mostly of the Neapolitan school (Durante, Fago, Feo, Hasse, Heinichen, Schiassi, Terradellas, and Zelenka ), including several first recordings; Enemies in Love, duos from Handel operas with mezzo-soprano Natalia Kawalek; and Facce d'Amore, featuring arias by Handel, Cavalli, Alessandro Scarlatti, Bononcini, Conti, Hasse, Orlandini, Predieri and Matteis. (The most recent release is also available on LP.) All three releases are available on CD and MP3 from Amazon (Amazon also sells the LP); the first and third releases are also available as hi-res downloads from HDTracks.
Here's an audio-only YouTube from the most recent album; Cavalli's La Calisto, Act 2: "Erme e solinghe cime … Lucidissima face" (Endimione).
With the caveat that for some listeners, counter-tenors are like harpsichords, highly recommended.
# # #
This article originally appeared on The Tannhauser Gate